1857 Mintwood Pl NW, DC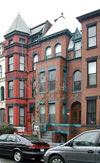 View from the street.
Address
1857 Mintwood Pl NW
Washington, DC 20009
[Map It!]
[Aerial Photo]
About The Property
This is a historic 3000 square foot home with all the bells and whistles, right where all the action is and with parking for two or three cars! Located on one of the prettiest blocks in Kalorama Triangle, this property is an early 1900s brick townhouse that has been lovingly restored and updated. This home is sunny (faces south with bay windows), wide-open and grand. Mintwood Place is a tree-lined, one-way street with an intimate sense of scale. 1857 sits directly across the street from a Bed and Breakfast, just around the corner from Adams Morgan's best restaurants like Cashion's and Perry's, and is conveniently located near transportation. The 42 bus stop is half a block away and the Woodley Park Metro stop is 6 blocks away.
About Kalorama Triangle
This area historically was part of the 19th century estate "Kalorama" and enjoyed a reputation for its natural ambiance. It was not until the turn of the century that urban development extended the city of Washington into and beyond the borders of this area. The land that now comprises Kalorama Triangle was subdivided in the early 1880s.
It was the redelineation of Connecticut Avenue (1897-1907) in conjunction with construction of bridges and the introduction of two major streetcar lines that formed Kalorama Triangle and established its urban character. Kalorama Triangle presents many building types and a variety of styles. Its buildings are important both individually and for their relationship to each other.They present a visually rich medium composed of picturesque streets lined with rows of three-and four-story dwellings and anchored by solid blocks of multi-family apartments. Together, the form, size, scale, and the ornament materialize into a significant period piece.
Kalorama Triangle is roughly bounded by Columbia Rd., NW, on the east and south; Connecticut Ave., NW, Rock Creek Park on the west; and the rear of the properties on the north side of Calvert St., NW, on the north. The buildings referred to above are private and not open to the public. The nearest metro stop is Woodley Park/Zoo.
Properties
A full-featured house as well as a separate in-law apartment are both available at this property.